Queenstown Research Week 2022 
Please see below for the 2022 meeting schedule. 
Registrations to new delegates open at midday on Monday 13 June 
 The 31st Annual Queenstown Molecular Biology meeting   
The Queenstown Molecular Biology (QMB) meeting will run in the same format as 2021, as a 2-day general science meeting, will now run on Wednesday 31st August and 1st September  The co-ordinator of the organising committee for 2022 is Dr Maren Wellenreuther from Plant and Food Research. 
 The 16th New Zealand Medical Sciences Congress 

MedSci 2022 will run from the evening of Tuesday 30 August to Thursday 1 September . The chief convenors for MedSci for 2021 are Kim Mellor and Rohit Ramchandra from the University of Otago.
SATELLITE MEETINGS 
Mihi Whakatau with keynote speaker  
Time TBC Monday 29th August
Convenor Katrina Bevan
Applied Genetics in Breeding Technologies 29th/30th August 
Andy Allen (Plant and Food Research) 
CRISPR Technologies (1 day) 29th August
Convenors Peter Fineran (UoO), Veronika Sander (UoA), Jennifer Hollywood(UoA), Cushla McKinney (UoO), Indranil Basak (UoO), Silke Neumann, (UoO) 
Advances in Microscopy (1 day) 30th August Mihnea Bostina (UoO) Otago Karen Reader (UoO) Lloyd Donaldson (Scion)  
Metabolic Diseases and Heart Disease 29th/30th August Organised jointly by Maurice Wilkins Centre (Kate Lee (UoA,) Vicky Cameron (UoO) and Sharon Ladyman (UoO)) and Healthy Hearts Aotearoa NZ (TBA)
Infectious Diseases 29th/30th August Convenors Dr Jemma Geoghegan (UoO) and Dr Joanna Hicks (Waikato) 
Cancer 29th/30th August Convenors Rachel Purcell (UoO) and Cherie Blenkiron (UoA) 
For updates subscribe to our email list via tab on the right or follow us on Facebook or Twitter (@qtresearchweek).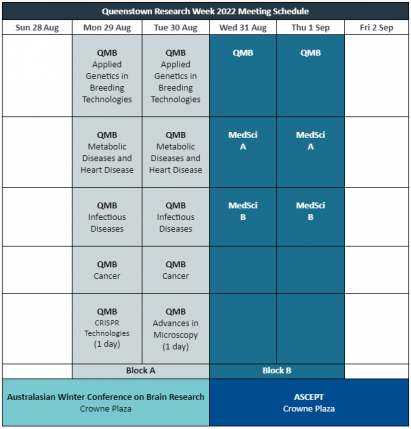 Key Dates:
Monday 18 July, 2022
QRW Earlybird Registration Deadline
Friday 1 July, 2022
QRW Abstract Submission Deadline
Monday 19 July, 2021
AWCBR Early Bird Registration. NOTE: Abstract Submission Deadline 30th May.
Friday 15 July, 2022
Major Awards Application Deadline
QRW Updates: