Queenstown Research Week 2024 
Save the date for QRW 2024
Saturday 31 August - Thursday 5 September
Updated details coming soon...

Please see below for the 2023 meeting schedule. 
The 33rd Annual Queenstown Molecular Biology meeting   
The Queenstown Molecular Biology (QMB) meeting will be a 2-day general science meeting on Tue 29 Aug to Wed 30 Aug. The focus this year will be on Nanotechnology – Applications in Health, Agriculture and beyond. The Convenors of the organising committee for 2023 is Dr Sarah Diermeier, Senior Lecturer and Rutherford Discovery Fellow in the Biochemistry Department at the University of Otago and Jaydee Cabral, Research Associate Professor at the University of Otago. 
The 17th New Zealand Medical Sciences Congress 

MedSci 2023 will run from the evening of Mon 28 Aug to Wed 30 Aug. The chief convenors for MedSci for 2023 are A/Prof Pete Jones (Otago) and Prof Fiona McDonald (Otago).
Satellite Meetings
Sunday 27 - Monday 28 August
Genomics
Convenors: Dr Joep de Ligt (ESR) and Dr David Chagne (Plant and Food)  
Kai mō Aotearoa – Food Science
Convenors: Prof Richard Mithen (HVN, Liggins) and Dr Jane Mullaney (AgResearch)
Microbiomes
Convenors: Prof Mike Taylor and A/Prof Kim Handley (School of Biological Sciences, University of Auckland)
Thursday 31 Aug - Friday 1 September
Hypothalamic Neuroscience and Neuroendocrinology Australasia
Convenors: Prof David Grattan (Centre for Neuroendocrinology, Otago), Zane Andrews (Monash University, Melbourne) and Sarah Lockie (Monash University, Melbourne)
Lymphatics in Health and Disease
Convenors: Peter Russell and Prof John Windsor (Surgery, FMHS, Auckland)
He taonga tuku iho – Bioprotection Aotearoa
Convenors: Amanda Black (Lincoln University) and Matt Templeton (University of Auckland and New Zealand Institute of Plant and Food Research)
For updates subscribe to our email list via tab on the right or follow us on Facebook or Twitter (@qtresearchweek).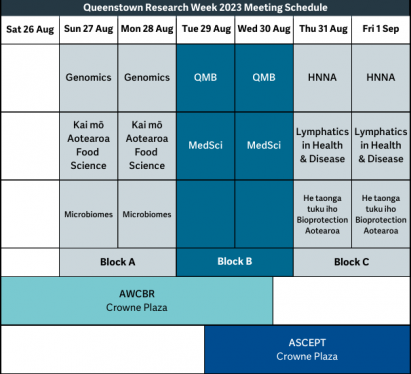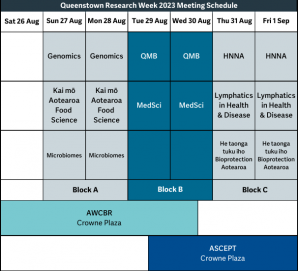 Key Dates:
Monday 17 July, 2023
QRW Earlybird Registration Deadline
Friday 7 July, 2023
QRW Abstract Submission Deadline
Monday 24 July, 2023
AWCBR Early Bird Registration.
Friday 7 July, 2023
AWCBR Abstract Submission Deadline
Monday 31 July, 2023
ASCEPT Early Bird Deadline
Monday 17 July, 2023
Major Awards Application Deadline
QRW Updates: